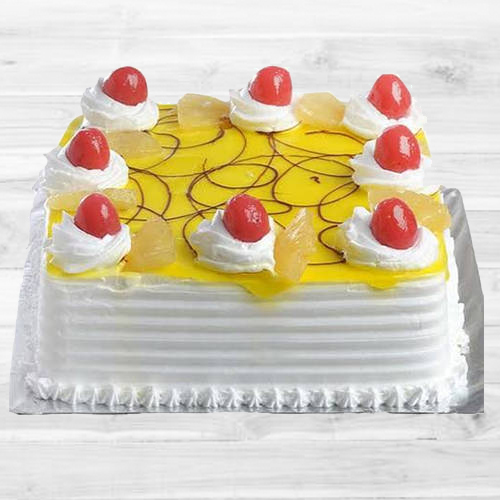 Guaranteed Same Day Delivery
Product Description:
Select option as per your requirement:
Eggless Pineapple Cake 1/2 Kg
Rs. 525/- $ 7.50
Give an colorful touch to every celebration by gifting this Silky 1 Kg Eggless Pineapple Cake.
Rs. 875/- $ 12.50
Dessert lover s delight, this Marvelous 1 Kg Eggless Vanilla Cake will satisfy every taste bud.
Rs. 875/- $ 12.50
Put a big-smile on your loved ones by delivering this Bakery-Fresh 2.2 Lbs Eggless Strawberry Cake.
Rs. 895/- $ 12.79
Send a bag full of happiness along with this Delicate 1 Kg Eggless Black Forest Cake to your beloved person.
Rs. 945/- $ 13.50
Order online for your loved ones this gift of Premium 12 Red Roses with 1 Kg Eggless Pineapple Cake that conveys how much you love them even if you remain silent.
Rs. 1225/- $ 17.50
Eggless Pineapple Cake 2 Kg
Rs. 1565/- $ 22.36
This Delectable 2.2 Lbs Eggless Plum Cake from Taj / 5 Star Bakery is just that appropriate cake to celebrate any event.
Rs. 2595/- $ 37.07
Eggless Pineapple Cake 4 Kg
Rs. 2995/- $ 42.79
Earliest Delivery : Today
Remote location may take one day more
Why Order with Pune Online Florists.